Overview
A bunion, also known as hallux valgus, is a painful deformity that develops at the base of the big toe. Bunions are caused when the big toe pushes and bends inward towards the other toes. This displaces the bones of the joint, causing it to protrude in a way that looks like a large growth. Bunions develop due to a variety of factors. Some people inherit feet that are more susceptible due to their shape and structure, having flat feet for instance. But bunions can be made worse by the wrong shoe, or by carrying extra weight or prolonged periods of standing or walking.
Causes
The exact cause of bunions is unknown, but they tend to run in families. Wearing badly fitting shoes is thought to make bunions worse. It's also thought that bunions are more likely to occur in people with unusually flexible joints, which is why bunions sometimes occur in children. In some cases, certain health conditions, such as rheumatoid arthritis and gout, may also be responsible.
Symptoms
Just because you have a bunion does not mean you will necessarily have pain. There are some people with very severe bunions and no pain and people with mild bunions and a lot of pain. Symptoms for a bunion may include pain on the inside of your foot at the big toe joint, swelling on the inside of your foot at the big toe joint, appearance of a "bump" on the inside edge of your foot. The big toe rolling over to one side. Redness on the inside of your foot at the big toe joint. Numbness or burning in the big toe (hallux). Decreased motion at the big toe joint. Painful bursa (fluid-filled sac) on the inside of your foot at the big toe joint. Pain while wearing shoes - especially shoes too narrow or with high heels. Joint pain during activities. Other conditions which may appear with bunions include Corns in between the big toe and second toe. Callous formation on the side or bottom of the big toe or big toe joint. Callous under the second toe joint. Pain in the second toe joint.
Diagnosis
Physical examination typically reveals a prominence on the inside (medial) aspect of the forefoot. This represents the bony prominence associated with the great toe joint ( the medial aspect of the first metatarsal head). The great toe is deviated to the outside (laterally) and often rotated slightly. This produces uncovering of the joint at the base of the big toe (first metatarsophalangeal joint subluxation). In mild and moderate bunions, this joint may be repositioned back to a neutral position (reduced) on physical examination. With increased deformity or arthritic changes in the first MTP joint, this joint cannot be fully reduced. Patients may also have a callus at the base of their second toe under their second metatarsal head in the sole of the forefoot. Bunions are often associated with a long second toe.
Non Surgical Treatment
Early treatment of bunions is centered on providing symptomatic relief. Switching to a shoe with a rounder, deeper toe box and made of a softer more pliable leather will often provide immediate relief. The use of pads and cushions to reduce the pressure over the bone can also be helpful for mild bunion deformities. Functional foot orthotics, by controlling abnormal pronation, reduces the deforming forces leading to bunions in the first place. These may help reduce pain in mild bunion deformities and slow the progression of the deformity. When these conservative measures fail to provided adequate relief, surgical correction is indicated.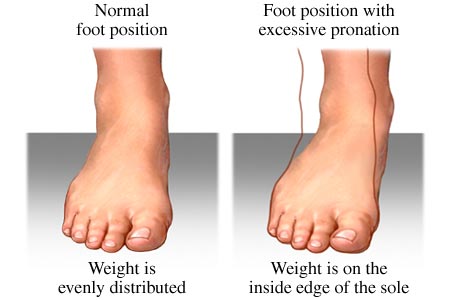 Surgical Treatment
Recent advances in surgical techniques have led to very high success rates for bunion surgery. In most cases the patient can walk immediately after surgery without crutches. As well most patients find the surgery to be virtually pain free. Almost all bunion surgery is done as an outpatient at a surgery center. Most bunion surgery is performed with a local anesthetic block and IV sedation (twilight sleep). After the procedure you will be moved to the recovery room for about an hour. You will then be ready to go home.